Close the Gap between WHERE YOU ARE and WHERE YOU WANT TO BE
Online Group Yoga & Meditation Classes
Connect with Self and Become Better to Live at your full Potential
योगश्चित्तवृत्तिनिरोधः
"Yoga is the cessation of the movements of the mind. Then there is abiding in the seer's own form."  – Patanjali, The Yoga Sutras of Patanjali
Yoga means Union; a union of the Ordinary Self to the Higher Self and ultimately to the Divine. 
The highest purpose of yoga is to attain moksha/liberation. This journey is long and while walking on this path when you practice yoga as an integral part of life, it is capable of giving you Health, Wealth, Wisdom, Spiritual Growth and Holistic Success.
Understanding of Ashtang Yoga
Eight limbs of yoga, i.e. Yam, Niyam, Asan, Pranayam, Pratyahar, Dharna, Dhyan, Samadhi. 
Universal morality or moral restraints. Maharshi Patanjali lists 5 primary Yam:
Astey: Non-stealing, honesty
Ahimsa: Non-violence
Aparigrah: Non-possession
Satya: Harmony in Thoughts, Words, Deeds, Truth
Brahmacharya:Following the path of Divine
Personal observance and rules to follow. Maharshi Patanjali lists 5 primary Niyam:
Santosh: Contentment
Sauch: Purity
Tapas: Austerity
Svadhyay: Study of self
Ishvarpranidhan: Devotion to God
When you practice Asan, Pranayam, and Pratyahar, it is referred as Hatha Yoga. 
Asan: Practice of Yoga Postures
Pranayam

: Control of Pran through specific yogic breathing techniques

Pratyahar

: Withdrawal of mind from the senses
When you practice Dharna, Dhyan and Samadhi, it is referred as Raja Yoga.
Dharana: Practice of focus or concentration and cultivating inner awareness
Dhyan

: Meditation or Devotion to Divine

Samadhi

: State of superconsciousness
What to expect from me as a Yoga Teacher?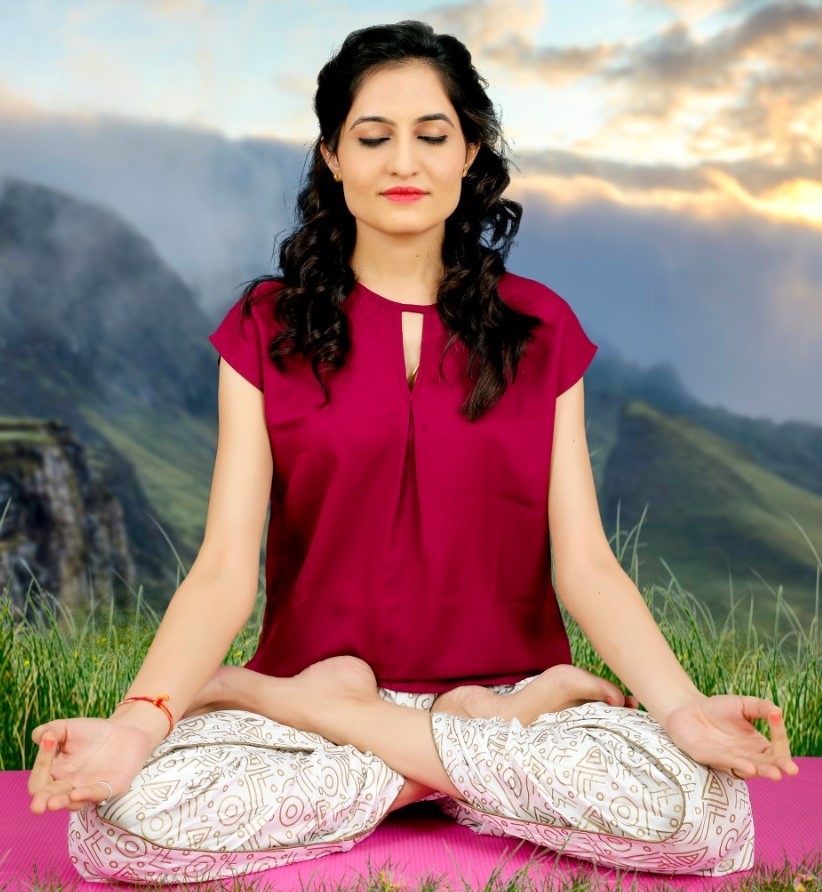 I impart the authentic teachings of Ashtanga Yoga, preserving its original essence without any alterations. My approach ensures that you can effortlessly incorporate these teachings into your life, reaping countless benefits and experiencing boundless bliss in all aspects.
My methodology is rooted in the fundamental teachings of yoga, operating at the level of Prana (Vital Force). It actively engages with the Nadis (Subtle Channels), eliminating impurities and obstructions within these subtle pathways. The ultimate goal is to attain Nadi Shuddhi (Subtle Channels Purification) and Chitt Shuddhi (Purification of Intellect).
Furthermore, the practice harmonizes the Five Primary Pranas (Prana, Samana, Apana, Udana, Vayana) and the Five Secondary Pranas (Naga, Kurma, Krkala, Devadatta, Dhananjaya).
I am the right yoga teacher for you if:
You are interested in the original teachings of yoga and ready to explore the beauty, depth and vastness of Yogic Science.
You want to adopt the Yogic and Satvik Lifestyle beyond just body-bending.
You want to enjoy countless benefits on Physical, Mental, Emotional, Social and Spiritual Levels by following the original teachings of yoga the way it has been mentioned in the scriptures.
You are patient and ready to experience bliss and evolve to a higher consciousness.
You are ready to unfold the practical path of spirituality and experience self-transformation by becoming better
Online Group Yoga Classes Includes:
How personal sessions different from your recorded yoga course?
Personal yoga sessions have a unique approach based on the original teachings of Ashtang yoga. 
Personal yoga sessions are highly customized and individualistic approaches designed for your unique needs and goals.
Recorded yoga courses have only those techniques which can be practiced by anyone without any supervision.
How many yoga sessions are conducted per week/month?
Yoga sessions are conducted Monday to Friday.
However, It's your choice how many sessions you want to do every week.
For better results, you should practice on a daily basis. If any doubts, you may ask in the enquiry form, I will help you decide.
I am not sure If this coaching program is for me or not/I don't know how many sessions should I book?
Don't worry, send the enquiry form given below and send it to me, I will guide you or book the one session now and experience how it works for you.
I am taking Yoga Coaching sessions for the first time, do I need specific preparation?
No! Just feel free and be receptive to coaching techniques.
Dos and Don'ts of yoga sessions:
Keep the gap of minimum 3 hours of having full meal/breakfast.
Keep the gap of minimum 1 hour of having tea/coffee/juice/milk/etc. You can drink water.
Keep the water bottle to keep yourself hydrated during the session. 
How long will I need Yoga Coaching sessions?
It depends on your objectives & the goals you want to achieve and how you respond to coaching techniques.
Can we have in-person or offline sessions?
No! yoga coaching sessions are conducted online – Google Meet Application.
Do you coach International clients?
Yes! 
Time zone difference will be managed. 
For payments by cards issued outside India, USD rates will apply.
How much personal yoga sessions will cost me?
One session of Personal Yoga Session with Dr Pooja will cost you INR 2000 or USD 36
Going forward you may choose the package of your choice on discounted fees.
Yoga Coaching is NOT Quick-fix, Magic, or Miracle cure.
This Yoga Coaching program is NOT for you if You don't want to take action sincerely and want overnight magic.
This Yoga Coaching program is NOT for you if You don't believe in the value of coaching and time.
This Yoga Coaching program is NOT for you if You are not ready to financially invest in your life goals and self-transformation
Start Your Yoga and Satvik Lifestyle Coaching Journey